Listen to this article
The Rising Star award takes a special place at the ceremony. It has been established to recognize the team member that came to the company recently and still managed to create a significant impact. Today we talk to 2020's winner — Maria Babicheva, a Scrum Master at MaxBill. In less than one year Maria has contributed to the complete change of the company's internal processes, making them more structured and tangibly improving the effectiveness of at least three wonderful teams.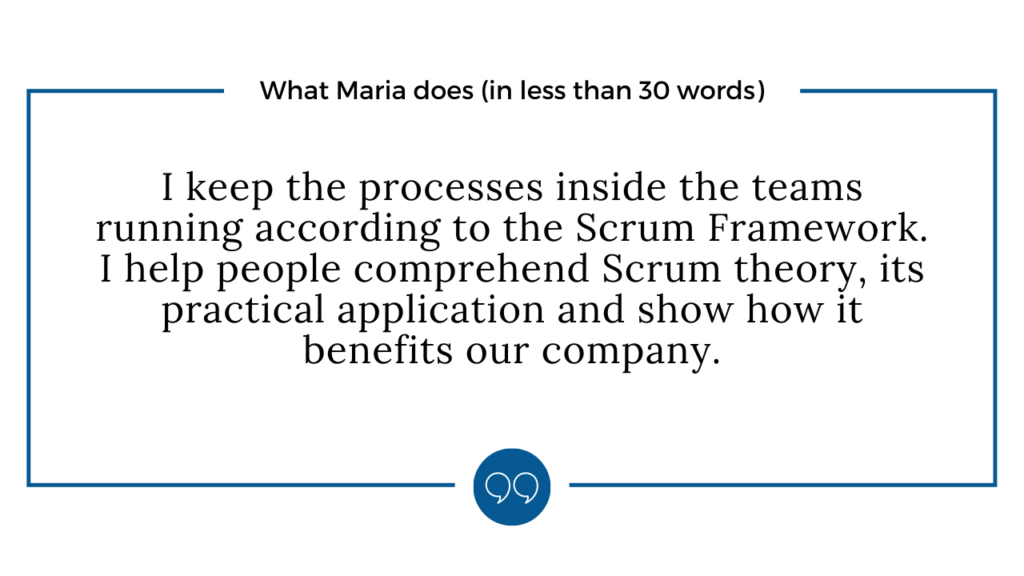 What was your professional journey before MaxBill, and how did you start with the company?
It's actually quite an unusual story.
Before joining MaxBill, I have worked in two other major IT companies. In the first one, AB-Soft, I started as QA, and worked there for 4 years. During that time I got promoted to the role of QA Lead. However, I needed a change of scenery and more space for professional growth, therefore left AB-Soft and joined Provectus.
I planned on being a Lead there too, but everything went not as expected, and I stayed as just QA. Nevertheless, my team grew bigger and became fully independent: we got developers, testers and a product owner. There were also similar teams in India and the US, where scrum processes were partially implemented. That's why Odessa Team understood that we needed to have a Scrum Master and I volunteered to become one. My initiative was approved by the management. Then the requirements expanded, I was very serious about self-education and learned more and more about Scrum. Eventually, I realized it gave me much more fulfillment than testing. Unfortunately, there was no opportunity for me to be specifically in the role of Scrum Master at Provectus. That's why I started to consider leaving the company.
In about a month I found a vacancy post from MaxBill over on LinkedIn and sent out my CV without even thinking twice about it. I didn't expect anything, but I got invited to the interview pretty quickly, where I met Yaroslav, MaxBill's VP of Agile Delivery. We had a complementary view on the role of Scrum in the company and got along wonderfully from the start, so I was very excited to accept the offer!
What makes MaxBill special to you?
In the past, I worked in large companies, where it was impossible to connect with the higher management. Such a state of affairs discouraged me because when people can't influence their work processes, many great initiatives die. At MaxBill, one can always take their idea to any of the VPs or even CEO, and count on being listened to and receiving feedback. Additionally, the Scrum Framework gives space to try out different methods for one or two sprints. This presents an opportunity to check if something works for the team before changing the processes.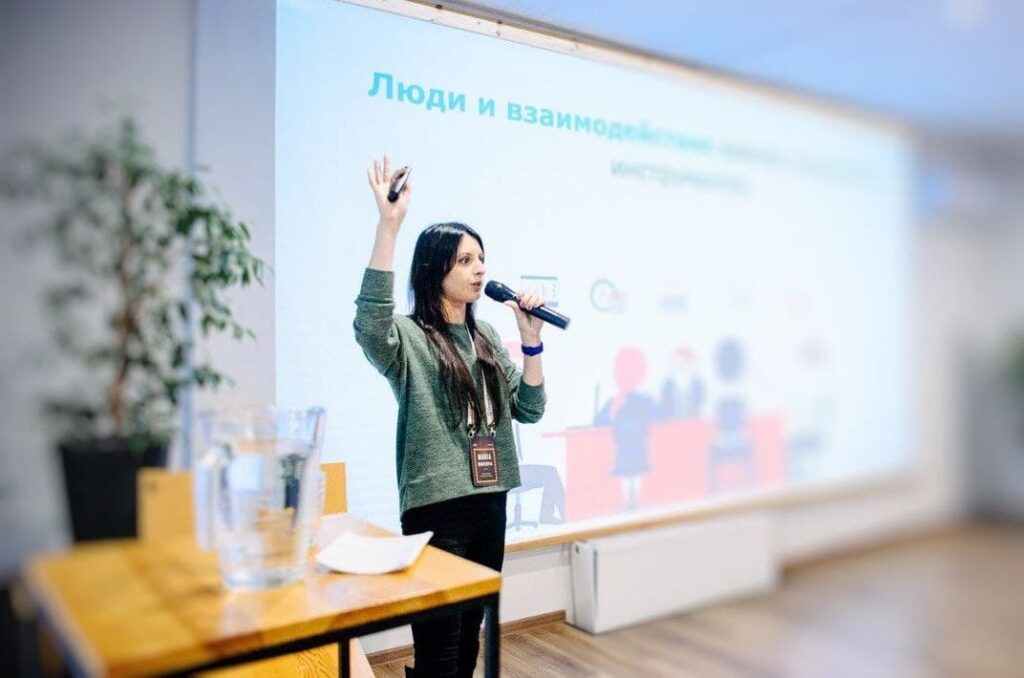 Another special thing about MaxBill is how much it values the personal and professional growth of the employees. When someone finds training that would be beneficial to their performance, they easily get approval in terms of leave and budget from the management. It is a perfect place to evolve as an expert.
What is the most challenging part of your job and which one is the most rewarding?
PO: "Mariia, could you please gather the entire team and someone from the top management in an hour?"

me: "Well it's a good thing I'm proficient in Tetris — gonna move some meetings in people's calendars".
Speaking seriously though, the main challenge is finding a key to communication with different team members. Every person has their own character specifics, which have to be taken into consideration. I help teammates understand each other better and work together more productively. It's my job to make sure everyone has set their personal issues aside when at work, and is on the same page with other colleagues. It can be difficult, but crucial for the smooth functioning of the company.
The most rewarding part of my job stems from the same notion: when I see how my support helps teams be more productive or drives the meeting faster than expected. It's a great feeling to be able to encourage people to take initiative and then see that initiative bloom into something valuable for the entire company.
Let's touch a bit on your passions unrelated to the workplace. What do you do in your spare time?
I prefer to spend my free time actively. Snowboarding, surfing, rope jumping – all kinds of extreme sports are my forte. Travelling is also one of my passions. Unfortunately, I couldn't visit as many places as I would've wanted since the COVID pandemic started, but I plan to get back to it once the situation improves.
If I want something more calm and relaxing, board game night with friends is my first choice. I enjoy all kinds of games – from the speedy to more serious and strategic ones.
Do any of your hobbies influence your work and if yes, how?
Definitely. I use my spare time to completely distance myself from work tasks and recharge. It helps me to then get back with new ideas and motivation.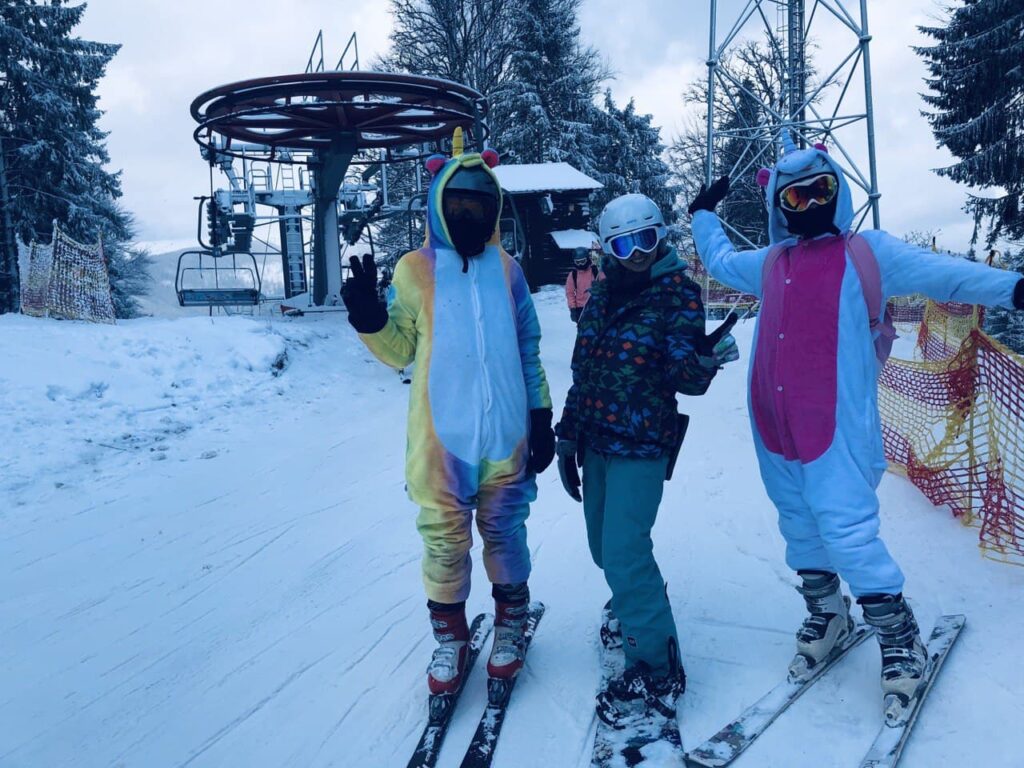 It is my philosophy, that when one works with people, he or she needs time away from any work-related thoughts. When your team's success depends on your ability to communicate clearly and patiently, you need to draw the energy from somewhere to then pour it into working routines. For me, active sports and quality time with friends and family become this much-needed source of energy and inspiration.
What were the most interesting and fun situations at work?
As I work with roughly 20 people every day, there is plenty of fun situations that happen during each call. It is interesting to see people with seemingly opposite characters find the bridges of understanding between them, based on similar hobbies or sense of humor.
Do you have any tips and/or wishes for MaxBill newcomers?
My tips are pretty conventional for those coming to any company, not just MaxBill. They are based on Scrum philosophy too. Communication, experimentation, self-reflection and discipline are the keys to success.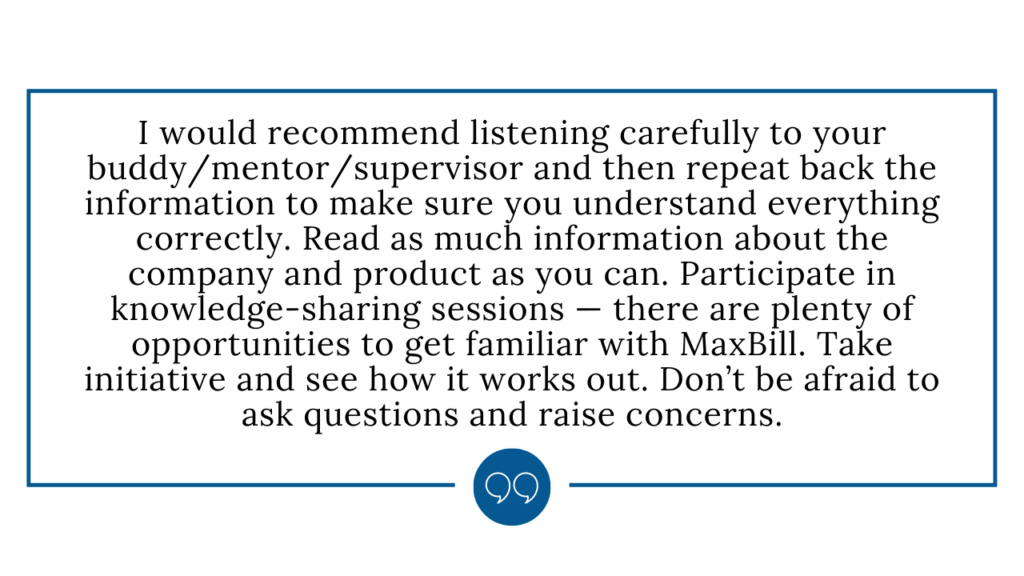 Try to socialize outside of work tasks as well — it is important for building understanding with your colleagues. It will help you get your point across faster and comprehend your teammates' message in more depth in professional discussions.
Make sure to dedicate quality time and effort to work on your skills in a T-shaped manner. It will not only enhance your performance with specific tasks but will help your team to work as a tuned mechanism, where everyone understands others and may lend a hand when needed.
We thank Maria for this very inspiring interview and invite you to stay tuned for more success stories. By knowing each other's journey, we learn to understand the world and people around us better, which is the key to growing personally and professionally.