All-In-One Modern Billing Platform that Revolutionizes Businesses
Explore how MaxBill helps service providers adopt a modern, strategic approach to billing and customer care to ensure invoice accuracy and support their business growth. Available on-premise or in a cloud model. You can choose from among public, private and hybrid.
MaxBill in a Nutshell
MaxBill Ecosystem
We deliver a smart BSS solution, strengthened by a broad, open ecosystem of operational and professional services and partner network to enable comprehensive business process management, technological roadmap support and impressive ease when onboarding and integrating new partners.
Multi-Play Nature
MaxBill supports both traditional and innovative business models (B2B, B2C, B2B2X), converging any number of brands, offer packages and databases on one platform. It allows service providers to scale virtually without limitations, managing tenants and all their customers, products, services, brands and partners in one system.
Concept-to-Cash
Our solution helps monetize any service offering. It supports a full concept-to-cash cycle, starting from the creation of a service, customer acquisition and order management, through to service charging, billing and revenue collection. With MaxBill, businesses have the ability to innovate fast, spending money wiser on ideas that matter and increasing revenue as a result, while having full control over each stage of this cycle with advanced, data-driven analysis and reports.
Maximum Value
The MaxBill solution is a highly efficient comprehensive and modular product, driven by BPM, robotic process automation (RPA) and AI technology. It supports any number of contracts with multi-layered commercial rules, producing highly detailed explanatory documentation, including tax reports for authorities. We offer SaaS flexibility with full vendor support and our implementation layer of industry best practices allows for getting the business running fast, efficient and risk-free.
Continuous Cooperation & Support
We have a customer-centric approach, and MaxBill is dedicated to each of our clients, making their strategic objectives the team's priority. We believe in close collaboration, personal commitment and partnership attitude. We continuously work together, providing strategic support for the client's business growth and portfolio expansion by upgrading our product using the latest technological innovation. Our solution lightens the workload of our client's personnel, simplifying communication among interconnected departments.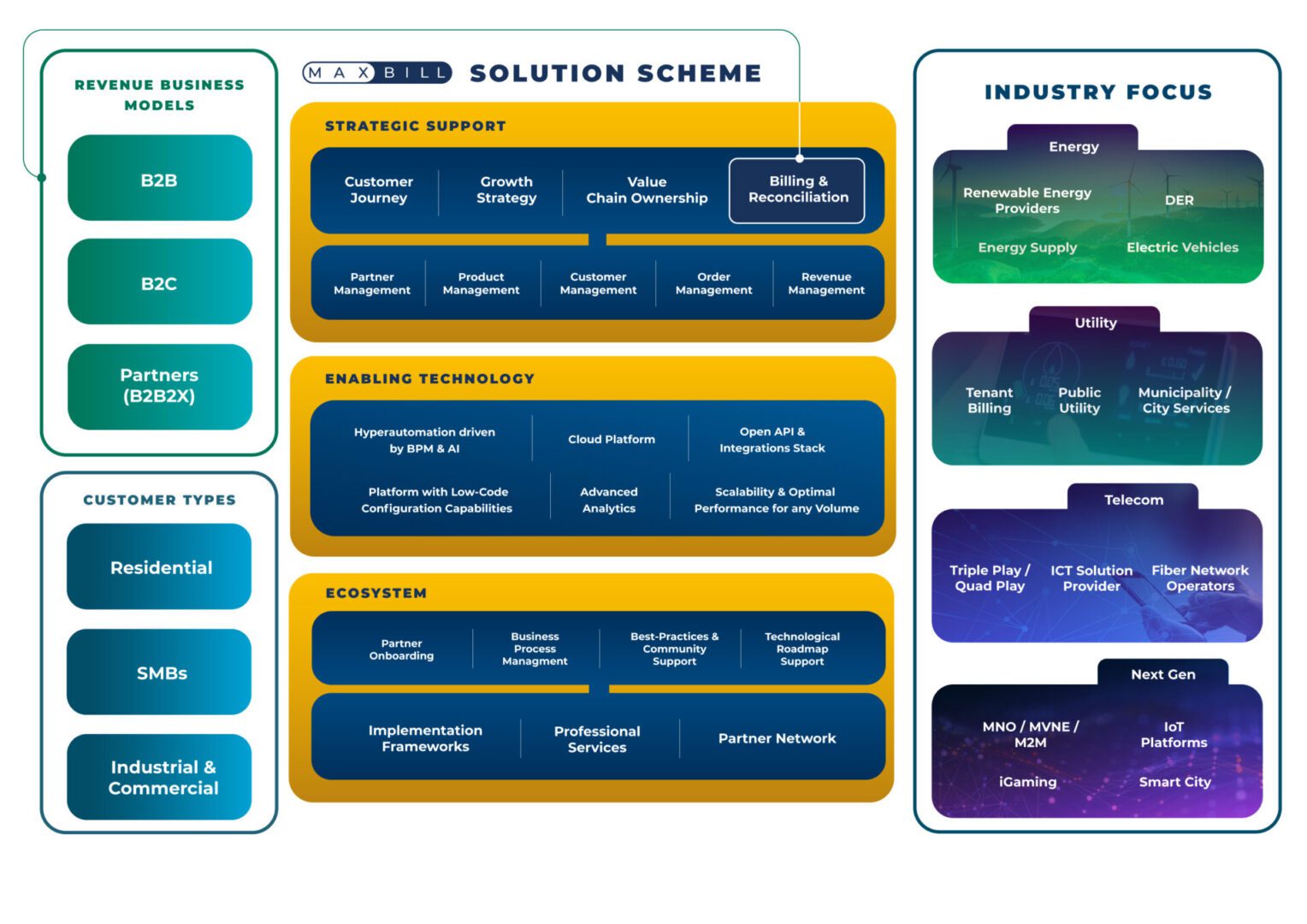 Billing & Product Management
Set up your invoicing workflow, automate your billing operations and boost your business growth by taking advantage of our modern billing solution.
Bill Run
Billing customers has never been so easy. MaxBill offers a reliable and intuitive interface that allows for gaining full control over the steps of the invoicing process, including criteria to approve the invoices out and running validation checks of the business data and invoice preview.
Product Catalog
Find the best way to manage your offering with the unlimited combination of products, services, price plans and add-ons. Extent certain combinations with different interest rates, taxation rules, pricing iterations, resource inventory demands, etc.
Off-Cycle Bill for External and Miscellaneous Charges
Tailor the ad-hoc invoices, that occur outside the normal bill cycle, with the right share of clarity, security and compliance.
Recurring Charges
Choose a more transparent way of billing flat and variable-rate recurring charges to support your strategy and exceed in a competition. Can be done as a part of the subscription price plans or at the individual account level.
Manage Consumption
Apply MaxBill's best practices to keep track of the customer consumption for usage-based services and bill it according to the selected rate plan.
Deposit Charges
Adjust deposit amounts and make the billing procedure transparent, accurate and secure.
External and Miscellaneous Charges
With MaxBill, any service that is provided outside of the main product or by a third party (e.g. for equipment, installation, or configuration activities) can now clearly be managed directly in customers' bills.
Billing Automation
MaxBill allows you to define and fully automate the billing end-to-end processes based on pre-configured conditions, starting from a simulation run towards the distribution of the formatted invoices or electronic invoicing.
Reporting
Benefit from the manually- or automatically-generated reports that can be used for various purposes of the organization such as accounting, sales, analytics, etc.
Email Notifications
Using MaxBill, emails can be triggered for recurring payments and invoices, customer retention and customized offers to specific segments of customers.
Customer Management (CRM)
Provide the best customer experience throughout the journey and improve your customer satisfaction rate with our CRM service.
Manage Customer Lifecycle
Administer customer profile (address, telephone, financial information, billing history, etc.) and make personalized offers based on preferences and account records.
Manage Customer Financials
Change or remove contract billing info such as bill cycle, deposit amount, various balances, payment method and discounts.
Manage Customer Products and Services
Easily maintain starting/stopping of any services for new and current customers, including renewal, prolongation, transferring services, change of ownership/tenancy and related to charges, i.e. deposits, at any point in the billing cycle.
Process Miscellaneous Customer Requests
Our request management module offers a powerful way to receive and properly manage customer communication applying an omni-channel approach.
Billing Disputes
Quickly handle the charge dispute queries and improve your internal process to reduce billing disputes due to mischarges, billing errors or refunds.
Customer Data Retention
Store all the information about each customer and his/her billing history and access the archives at any time.
Partner Management
Nurture the relationship with your partners and associates by applying our modern billing principles.
Third-Party Company Settlement
MaxBill allows for receiving charges calculated by third parties and presenting them on the customer's bill alongside other charges.
Revenue Sharing & Royalties Calculation
Ensure flawless calculation accuracy for the gross or net revenue allocation or complex royalty payments, depending on the partner license agreement, tax regulatory conditions, caps and minimum guarantee.
Apply Miscellaneous Charges
MaxBill enables businesses to charge customers for the activation of different miscellaneous services, for equipment, installation or configuration activities based on the assigned tariff plan.
Receive External Charges
MaxBill allows for receiving charges calculated by third parties and presenting them on the customer's bill alongside other charges.
Payment Allocation
Apply personalized payment allocation rules for the customers to pay expenses and fees, using priorities by service and invoice.
Manage Financial Procedures
Take care of various records that are a result of billing, payment, and other financial activities that your company performs and automate the financial processes, even when they need to be approved by multiple managers.
Order Management
In MaxBill, the definition of and information regarding orders and a supply is might be managed jointly or independently of customer service. Location and status of orders and supply are defined and managed, enabling the efficient control of metered and unmetered sites and smooth processes to connect products and services to the service delivery points or distribute them to the end-users.
Manage Inventory
Change and track specific information about tangible and non-tangible inventories, such as a device type, manufacturer and model, date of purchase, serial number, measurement units, address location and status of each item.
Manage Exchange or Loss of Supply
The MaxBill solution helps handle and track exchange in case of damage, loss, renewal or upon customer request and bill customer the installation activities according to the organizations' policies.
Manage Event and Usage Data Records
MaxBill provides a service-neutral engine that can process a high volume of data records acquired from various external devices and gateways, while handling multiple input streams simultaneously (e.g. meter readings, telco usage, gaming transactions, etc.)
Metered Reads Management
Validate, estimate and edit reads to calculate consumption for a specific period. Track all the consumption history and collect information about the equipment installed at the service delivery point, including costs and quantities available by location.
Synchronize Master Data
We enable organizations to manage the system's master data and synchronize it with other subsystems, for example, meter data management.
Order Fulfillment
MaxBill helps execute automated end-to-end management of the digital product lifecycle while minimizing the number of invalid offers, lost or incomplete orders and activation failures.
Revenue Management
Optimize your revenue models and predict customer behaviour, extend and improve your service offering according to acquired data.
Accounts Receivable
Give your customers and partners more freedom in paying their bills conveniently using a tailored payment plan and automating payments from the defined bank account. Maintain the receivable side of customer accounts.
Accrual Reporting and Forecast
Track unbilled revenue earned for the entire customer base or just a selected segment based on the services provided and forecasted.
Perform Collection Activities
Administer outstanding invoices that are not paid by a set due date, including late payment charges and past-due uncollectible receivables and set up activities to collect the arrears based on your organization's policies.
Manage Payment Arrangement
Create, collect, and track time-defined payment arrangements easily, taking care of customer needs throughout the journey and driving more revenue.
Calculation Models (iGaming)
MaxBill provides accuracy of reconciliation and transparency of invoices, while simplifying contract management with support of complex hierarchies of licenses, brands, vendors, agents, partners, etc.
Royalty Contract Details
Per all customer products
Per product
Minimum Guarantee
Definition of contract's MG per brand, per licensee, per group
Rules in the calculation for MG amount
Taxes & VAT
Different taxes and VAT rules
Possibility to configure % per country
Local regulations
Royalty Types
Standard
Branded
Group agreements
Revenue Models
Net Gaming Revenue (NGR)
Gross Gaming Revenue (GGR)
Frequently Asked Questions
Q
Do you offer a SaaS license for MaxBill?
A
Yes, we offer a SaaS license. In some cases, we can deliver the on-premise version of MaxBill, but we recommend to choose the SaaS model for a couple of reasons:
You will save your budget and time on hardware purchase and maintenance;
You will always have the latest versions of the System.
Q
Do you offer the trial license for MaxBill?
A
Yes, we offer the trial license upon request. In addition, we can provide a training course to navigate through MaxBill and learn more about its features.
Q
How do you calculate the license price?
A
It depends on the customer's business vertical. There are many options for how the price for the license can be calculated, but first of all, we consider the number of active subscriptions and active partners.
Q
How long does the implementation of MaxBill take?
A
Basically, we can deliver the trial version of MaxBill within 1 day. And the switch from trial to the full product may take up to 14 days, including additional activities that may be performed to deliver the System to you:
3rd party systems that should be connected to MaxBill (logistic partners, ordering systems, ERP systems, print house services, etc.);
Availability of subject matter experts on your side to consult with during installation and integration activities;
The necessity of data migration, volumes of data, and the complexity of the migration procedure into your billing system;
Training activities for your staff.
Q
Does MaxBill have an API?
A
Every MaxBill product module has an open API allowing them to be used outside of MaxBill. We have experience in integration with such systems as Salesforce, Oracle, SAP, Workday, Microsoft Dynamics, Affinity Suite Marketflow.
Q
How are the business processes of MaxBill implemented?
A
The solution is process-oriented, and is driven by cross-module business processes that utilize functionalities not only for MaxBill components but also for third-party modules. Business processes are orchestrated by the BPM engine which is based on Camunda. Using this engine enables easy external workflows integration – your business analysts and system integrators can implement new workflows into BPMN2.
We support the following interface methods: synchronous and asynchronous communication flows, real-time responses for REST API calls, batch processing, file exchange, SNMP messaging, and traditional SOAP APIs. The solution includes a unified user security mechanism, interfacing bus for cross-module interfacing via REST APIs exposed via the API gateway.
In addition, we provide REST, Kafka, and WebSocket APIs to our BPM engine for managing implemented business processes. It allows the execution of MaxBill's workflows by third-party systems, such as customer portals, CRM systems, mobile customer apps, etc.
Q
What are the main concepts of MaxBill's architecture?
A
The openness of MaxBill's architecture is achieved by design and advantage of API standards. We use OPEN API, Java EE, and other micro-services concepts, which makes MaxBill 5 a genuine cloud solution. WildFly Swarm technology is actively used for the microservices implementation and package. Since 2016, all new MaxBill's versions and components are developed in accordance with the micro-service architecture requirements.
Q
Does MaxBill allow integration with ERP and CRM systems, and if so what accounting packages are available for integration?
A
We are able to integrate MaxBill with any ERP or CRM system in case it has an API for integration (Oracle ERP, Microsoft Dynamics, SAP, etc.)
Q
Is your solution able to support scalability for new services?
A
Our System is a multi-play solution by its nature that is designed to allow for managing all customers, products, and services in one place, forming new packages to reach different vertical markets within the shortest time.
Q
Is MaxBill able to support multi-currency and multi-language?
A
Yes. To start working with the secure multi-currency environment, all you need is to just set the system's currency to ensure correct exchange rates and add the currencies you operate with.
MaxBill supports multi-languages, providing adaptive UI for right-to-left languages (e.g. Hebrew, Arabic). A new language can be added upon request. Currently, MaxBill supports the following languages:
English;
Dutch;
Finnish;
Russian;
Hebrew;
Arabic;
Spanish;
French;
German.
Q
Why should I use MaxBill instead of your competitors' products?
A
The main advantages of MaxBill are the following:
Multi-play nature – we manage all our customers, products, and services within one solution;
Concept to cash – we make faster, better-informed decisions with full control over the service/product offering;
A suite of services – we provide access to the network of on-demand services that fit any business mode;
Maximum value – we ensure fast, risk-free roll-out based on customers' business needs.
Q
In what countries do you operate?
A
We are active worldwide, with a significant presence in EMEA.
Q
What industries do you work in?
A
We are able to provide solutions for all industries with the need to offer and monetize their services. Here is an example of industries we are currently the most active in:
Energy and multi-utility;
Telecommunications and content providers;
Gaming;
B2B service providers.
To get more details about the solutions we offer to our clients within these domains, feel free to contact us.
Want to give it a try?
Take our free product tour, customized to your company needs.
Thank you!
Your information has been successfully sent. One of our experts will be in touch with you shortly. In the meantime, you are welcome to learn more about MaxBill.