April 7, 2021
Trends Vs Reality: Exploring Innovation in Energy and Utility Sector
Listen to this article
At the beginning of 2021, our team analyzed the trends on the market and compiled a datasheet to showcase the main ones. It describes the hottest technologies that were most often talked about in the industry. Some of them, like incorporating AI and ML into the processes to achieve hyperautomation, are also relevant for MaxBill's operations and constitute a big part of our development plans for this year. However, knowing about them first-hand, we were curious to know the state of the industry at this point, to better understand at which speed such innovative trends could be widely adopted.
Three months into the year, the MaxBill team surveyed professionals from various sectors to use the results as a litmus test of the digital transformation in the energy&utility. In this article, we reveal where most companies at right now, and consequently, how far are they from achieving the industry-wide goals for 2021.
The Journey to Intelligent Automation
Hyperautomation is a trendy word right now, which describes the ecosystem where an array of tools (RPA, AI, ML, data and process mining, etc.) is used to achieve superior levels of automation. Smart metering systems, that were around for quite some time already are crucial in this part of digital transformation as the main sources of data.
The survey showed that the majority of companies (84,6%) consider automation being vital for them, rating it as "4" and "5" on a 1 to 5 scale. However, only 38,5% of respondents have implemented AI into their internal operations. While it seems that we have a long way to go to reach the needed levels of automation, it is worth noting, that 73% of survey participants do use AI to enhance their customers' experience. This gives us a very clear idea of where most companies start their process of making automation smarter. It is not surprising, taking into account the fact, that the customer-centric approach is another huge trend of the industry.

Reaching Out to Customers
A whopping 73% of the businesses believe it is their responsibility to drive the conversation with the customer base. The majority (53,8%) don't wait around for potential clients to come to them and initiate the contact. This is only logical, as the competition got tougher after the health and economic crisis of 2020. What is also important, data- and location-driven targeting become a staple for the utility industry. 96% of all surveyed listed more than three channels they regularly use to appeal to different customer groups, based on their characteristics and preferences. Among them, more than half can be supplemented with automation of a kind, including email, social media, and messaging apps.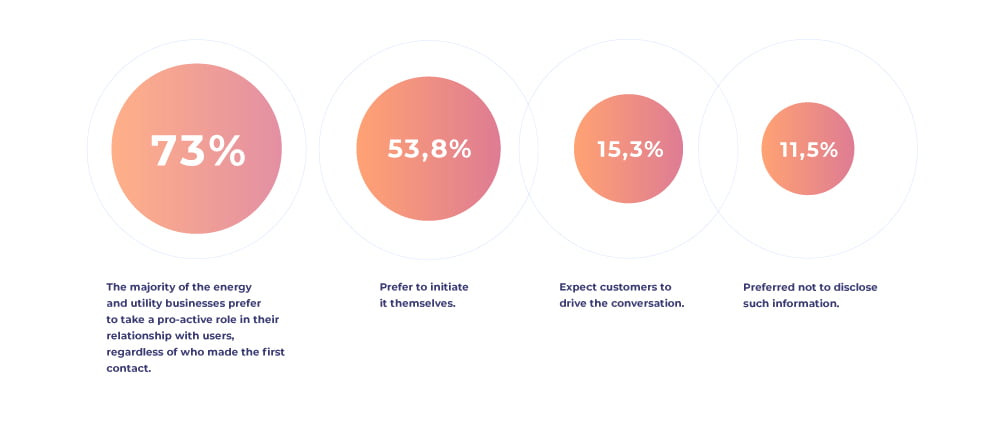 Keep On Transforming
Overall, based on our research, energy and utility companies are very engaged in the process of digitalization. Taking the specifics of the industry into account, like the complexity of the supply chain and the huge amounts of data that comes from the metering appliances and have to be processed and stored, businesses in this sector need to up their digital transformation game. Tony Saldanha, Former Procter & Gamble Vice President for IT and Shared Services, claims that 70% of companies fail at it. There are a variety of reasons why an industry's reality can be far from what is considered to be relevant right now. The lack of clear goals and expertise, in particular, is considered to be one of the major ones.
We recommend keeping in mind which tendencies are prevalent in the industry right now while taking into account your customers' needs to set the priorities right and get a clear idea of where to start the digital transformation journey. Then, it is a matter of choosing vendors and partners that have deep expertise both in the particular industry but with the required technology. Be sure to connect with the professionals that will support you along the way and deliver value from the beginning.
Any successful digital transformation relies on knowledge and awareness, data-based decisions and dedication to the process.
Never miss an important story!
Get the latest news dispatched to your inbox once a month.
Thank you!
Your information has been successfully sent. One of our experts will be in touch with you shortly. In the meantime, you are welcome to learn more about MaxBill.