June 9, 2020
Take Customer Care to the Next Level with New Ways of Communication
The telecommunication industry is by definition a welcoming space for flexibility and innovation. Companies in this sector have reformed many times and will continue to do so at an even greater pace. Working with many telecommunication industry players over the years, we have seen how many of them transformed from just ISP, TV or mobile operators into at first the big triple-play providers, and then extending the existing offer by adding more value and network diversity. Each corporation has its own story and the distance travelled, but the one similarity they share is that each one had to evolve to meet the expectations of their clients. As the world changes rapidly and the competition being tough, the question is – what is it that customers need (and want) right now?
Simply a "Good Product" Is Not Good Enough Anymore
The client satisfaction doesn't depend solely on the range, quality and price of the services provided. As determined by the American Customer Satisfaction Index, customer support is one of the pillars on which the overall customer experience stands. Clear, speedy, multi-channel communication and, of course, positive reaction to the feedback, are what clients value in their provider as much as, for example, the quality of the picture on TV or the speed of the data transferred.
So, while expanding their offering, adopting new technologies and coming up with more exclusive service, telecom companies should not neglect the importance of customer support. Customer care needs to change and evolve as the corporation grows, and new ways of communication are taking over. Nobody knows this playing field better than the providers themselves, yet, many are still using the outdated means of interaction with their clients, and call centers remain the worst customer touchpoint of all, as seen from the ACSI Report below.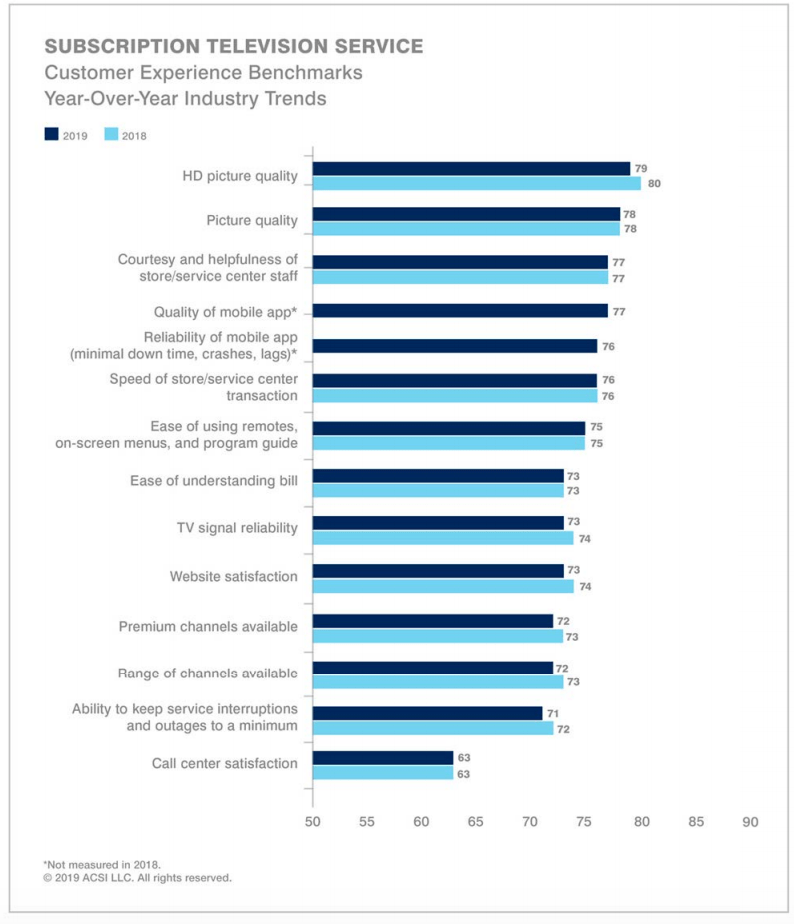 Modern Ways of Communicating with Clients
According to the Gallup study, there was a steady decline in phone calls over the past six years. As Millenials and Generation Z become the most solvent population and their demands for great customer service grows progressively, service providers must pick up the hint and be able to communicate in a way that feels natural to their audience. Which means messaging.
People are constantly on the go, they don't like to dedicate their full attention to any activity and prefer customer service that fits into the screen of their smartphone. In-app messaging, PUSH notifications, instant messaging and interactive emails are becoming the new norm. Many companies use them all at once, creating cross-channel communication, to lower the effort threshold for younger clients if they want to reach out, which enhances their customer experience.
However, as the population around the globe becomes older, middle-aged and senior citizens still constitute a huge part of the users. They are used to calling and talking to a company representative by phone. Also, let's not forget that some people just generally prefer voice chatting to any texting and they like receiving help from a person that seems more real than a messaging bot.
Does this mean that call-centers are not going anywhere any time soon? Probably, as modern contact centers for customer service can be empowered by Artificial Intelligence, voice recognition and chatbots. They can enhance the user experience on the side of the client and lighten the load of the support team.
What Telecoms Can Gain
So why is it necessary for telcos to adopt the new ways of company-client interaction? Why can't they just keep their contact centers, and let the eCommerce companies play around with chatbots and interactive push notifications?
It all comes down to three problems:
The user base of any telecommunication company is usually vast, making it challenging to finds the right solution to address a variety of subscriber demographics.
Considering the scale of the client base, it's also hard to accept requests from customers without delay and resolve issues as fast as possible.
There are a lot of routine questions that have to be processed by the support teams, and notifications that have to be sent out regularly.
Implementing automated cross-channel messaging, along with chatbots, can solve all of them.
Maintaining a huge contact center dedicated to customer support becomes budget-straining. It is expansive and completely unnecessary if half of the functions can be re-directed to automated messaging or emailing.
At the moment, MaxBill, for example, enables their clients to use a variety of workflows that include communication with their users, which is done completely automatically – via text or e-mail, – whichever they prefer. It means that no employee has to waste time sending out routine notifications, invoices, offers, etc., and can dedicate his/her potential to solving more crucial issues. This also eliminates the need for an inflated staff doing a mundane job. Smaller and more proficient team members mean better productivity, higher salaries and improved employer satisfaction.
Then, by using chatbots or AI a company can offer 24/7 support using fewer human resources, making sure the most frequent issues are resolved quickly (possibly even without the involvement of the human employees) and redirecting more complex requests to the right support department.
In Conclusion
Communication is a powerful tool for any business. In order for a telecom company to productively engage with its client base, the main rules are:
Multiple channels must be available to the users, to cater properly to various customer groups.
The interaction should go both ways – a user must be able to contact support, request a service or leave feedback, while the company could reach out with important announcements, updates and offers.
Companies shouldn't spend a fortune, hiring more staff or making their employees solve tiresome and mundane issues. The implementation of automated workflows and artificial intelligence can make the customer experience more pleasant for the clients and less expensive for the company.
Considering all of the above, the best suggestion would be analyzing how often each workflow is needed and how much resources it takes to run one instance of it. Then continuously plan and implement automation for those most frequently used or tiresome and yet often enough used. It will optimize your resources, improve your clients' loyalty and make room for new opportunities.
— Cover photo is by Alex Kotliarskyi on Unsplash
Never miss an important story!
Get the latest news dispatched to your inbox once a month.
Thank you!
Your information has been successfully sent. One of our experts will be in touch with you shortly. In the meantime, you are welcome to learn more about MaxBill.