Listen to this post
Creativity, dedication and partnership are MaxBill's core values. One of the team members who serve as a stellar example of them all is Vladimir Melnichuk, a senior software developer. Vladimir won the best employee award for innovative solutions in 2019 and continues to share his enthusiasm for cutting-edge technology and out-of-the-box productivity techniques by participating in the MaxBill mentorship program. He is always there to support other MaxBillers with advice, practical solution, or simply a ray of positive attitude. So if you have any front-end-related questions or would like to study this field closer – don't hesitate to become his mentee.
What Vladimir does (in 30 words or less)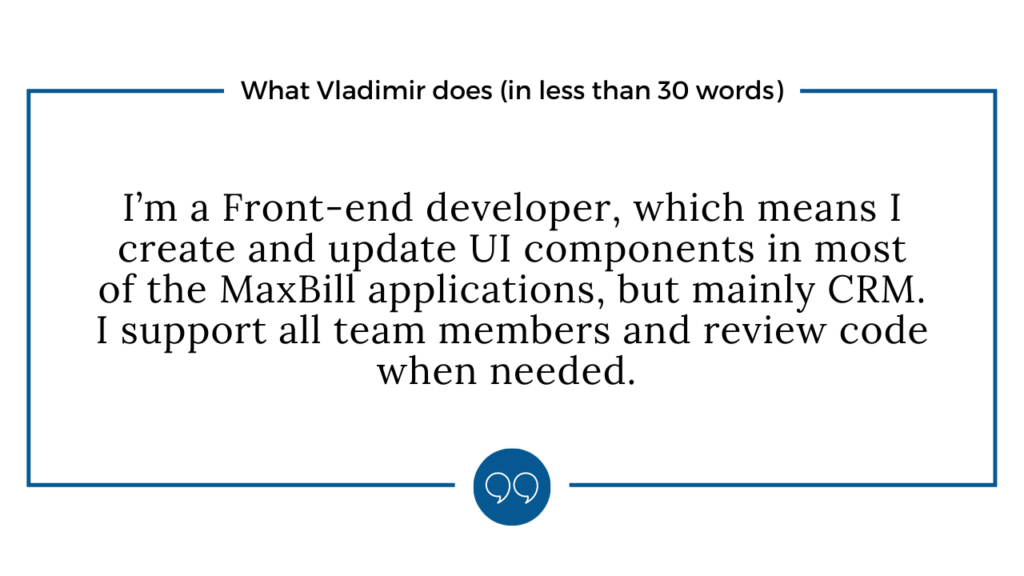 What was your professional journey before MaxBill, and how did you start with the company?
Oh, it was a really long journey. I started as an HTML coder a long time ago, when IE6 was a thing. Very soon, Front-end became my passion. I love designing "micro-universes" where components live and interact with each other based on the principles I've set. It is wonderful to be able to witness the results of your work immediately in the UI.
I've worked for numerous clients, was freelancing for a while, and then decided to join a stable company with a mature product — MaxBill. Since I came here, I've seen it grow and evolve in many ways, which made me extremely proud and positive that I've made the right choice.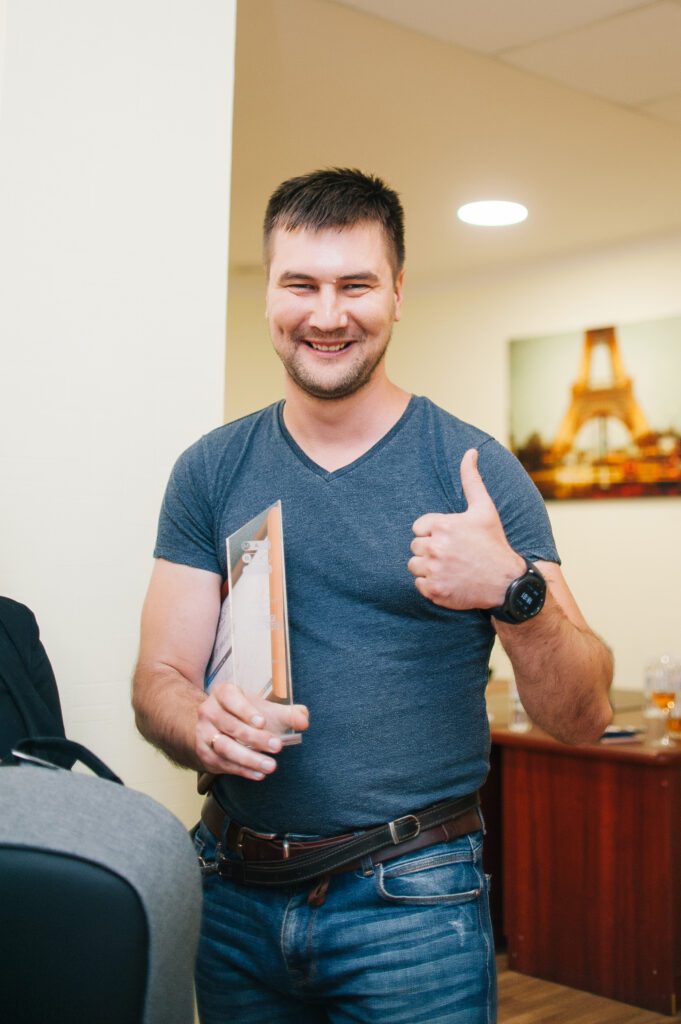 What makes MaxBill special to you?
The team, definitely! In MaxBill you can always count on the support and a helping hand. The culture here is truly one of partnership, friendship and mutual respect.
It is also exciting to work with innovative technologies, searching for ways to modernize processes.
What is the most challenging part of your job and which one is the most rewarding?
Front-end coding can be quite intricate, especially when working with a product that has multiple generations. Any solution needs to be updated over time, and it is not easy to execute. One has to study the existing codebase and transform it carefully without breaking any vital algorithms.
The most rewarding part is to help teammates and customers. Improving the applications to make their work simpler and more productive, and then receive positive feedback motivates me to do better and come up with even more innovative solutions.
Let's touch a bit on your passions unrelated to the workplace. What do you do in your spare time?
I enjoy spending time with my family, we come up with new activities all the time as my son is growing up. Recently we started going fishing — it turned out to be so much fun! I also travel by bike and attend Ju Jutsu training.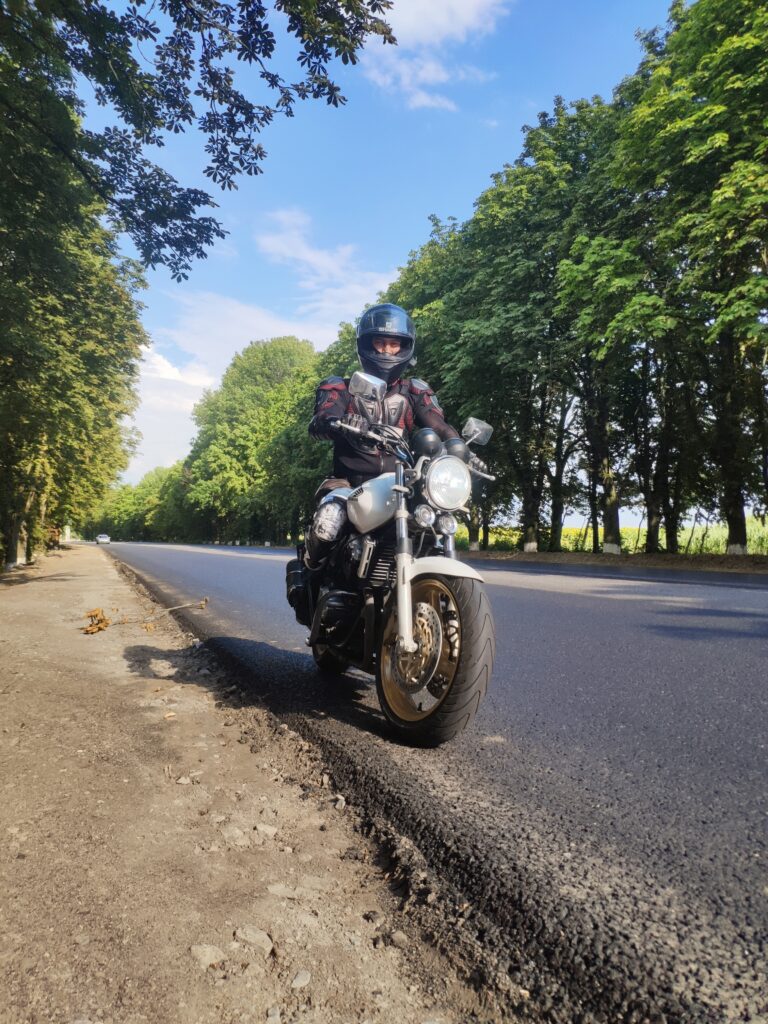 Do any of your hobbies influence your work and if yes, how?
Yes, totally. I enjoy learning about Japanese philosophy, especially the kaizen and ikigai principles. They help me a lot in my personal life and at work.
Word "kaizen" means "change for the better", as "kai" means change and "zen" — good. This reflects my golden rule: every day try to be better than yesterday. By the way, kaizen serves as a base for the Kanban system, which is popular in software development.
Ikigai translates to "your purpose in life", where "iki" means "to live" and "gai" is "the reason". Ikigai stands on five main philosophical pillars: starting small, making space for yourself, live in harmony and sustainability, finding joy in little things, and being present in the moment. Applying the above to work, you can find how your passion and job meet, and therefore prevent burnout.
What were the most interesting and fun situations at work?
There are many of those every day, it's hard to single any out. I remember a funny case when my colleague and I were sweating over some code for a couple of days and couldn't find out why it is not working. Turned out, there was a typo in one line, which broke everything. It is one of those moments you can be frustrated about or use as a life lesson to pay attention to the smallest details.
What is the most special moment with your colleagues?
The most special moments are usually about overcoming challenges together and teaching each other something new — no matter if work or life-related. The most memorable ones, however, are when we joke around. Just like one time, a fellow colleague said "the application is working but it wouldn't launch". Laughter often helps to solve the hardest issues.
Do you have any tips and/or wishes for MaxBill newcomers?
Never be afraid of learning. Be curious, try new approaches, tools, technologies and methods eagerly, and find something that works for you. Apply different tactics to different situations, experiment and innovate without a doubt. Stand your ground and do your job with enthusiasm.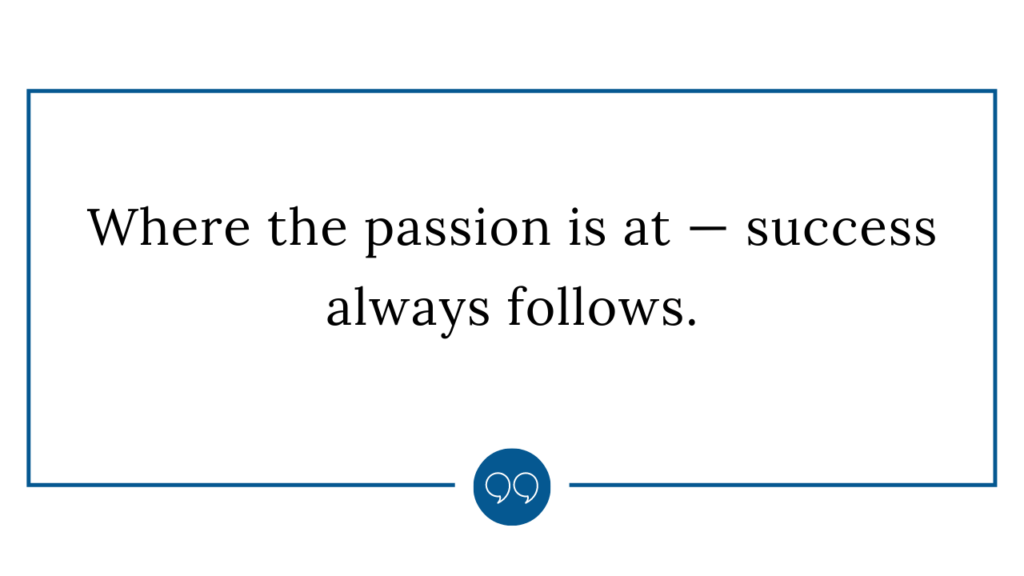 What is the advice you give as an internal mentor to other MaxBillers?
If you are not sure about something or have difficulties — ask other members of the team, a team leader, your manager, or your mentor. At MaxBill everyone is open to a productive discussion, you just have to initiate it. Self-doubt, shame and hesitation are not productive. Remember, there is no such thing as a "stupid question": speak your mind and you will find the solution quicker.
We thank Vladimir for this very inspiring interview and invite you to stay tuned for more success stories. By knowing each other's journey, we learn to understand the world and people around us better, which is the key to growing personally and professionally.