Creating a solution is an intricate process. To deliver the best user experience, a product should contain a masterful combination of functionality and eye-pleasing design. Even though the main mission of a good design is to help the user achieve their goal as fast and effectively as possible, most people still would prefer it done in style. Today, we introduce the person behind our award-winning product design, Alexandra Ovcharenko, the UX Business Analyst.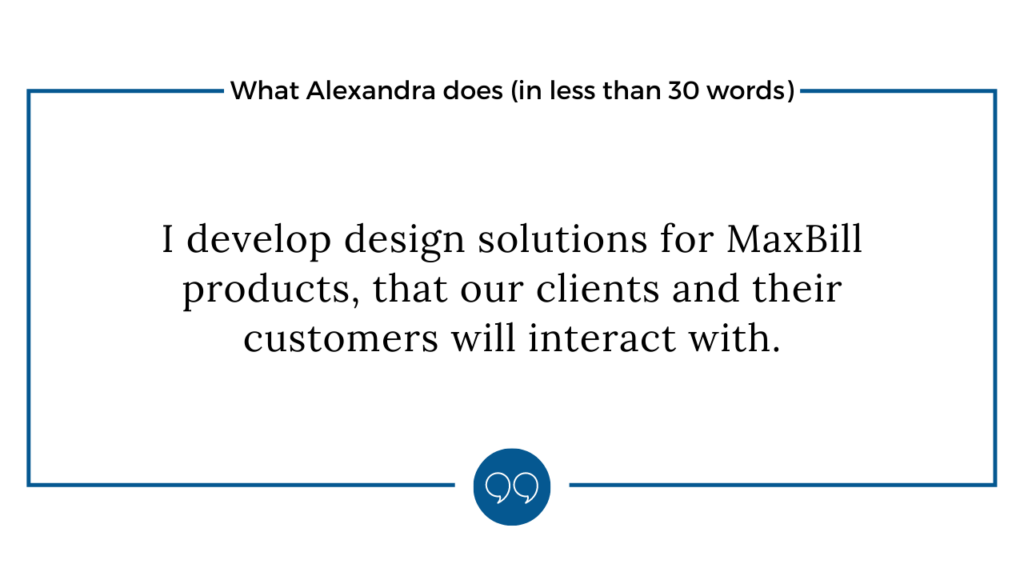 What was your professional journey before MaxBill, and how did you start with the company?
I've been working in IT for over eight years now. I have led teams and projects in big companies like Luxoft, SoftServe and others. My interest diminished eventually, as, in my opinion, the well-communicated team and closely followed agile protocols create a self-sufficient working system, without the need for a Project Manager. I was always passionate about creating and improving the product to bring users the maximum possible value. Therefore, I've moved to a UX designer career path. I started as a design team lead on one of the Megogo projects and at the same time completed the education for UX design at Kyiv Academy of Media Arts.
Then, after another project, I've arrived at MaxBill, where I had a wonderful opportunity to improve and develop various parts of the solution. I was very excited to work on CRM workflows and the Ordering dashboard.
What makes MaxBill special for you?
There is virtually no beurocracy at MaxBill: everyone is connected by the desire to develop the best possible solution for the client. I really appreciate such an attitude at the workplace, as it allows everyone's creative potential to blossom and when professionals come together in the earnest attempt to provide real value to users, beautiful decisions happen.
What is the most challenging part of your job and which one is the most rewarding?
We create an all-in-one solution with a very powerful potential for configuration. It's both the most awesome part of my job and the most difficult. I love the opportunity to take part in providing clients with a solution that fits their business need perfectly and brings the most value. However, to succeed in such a mission, it is crucial to know each client's business in the smallest detail, understand their niche perfectly and be able to even predict coming trends to build a product that will evolve with the company. To plan out the perfect design for the product and each of its modules, a good designer has to think many steps ahead and anticipate client's needs that might come up in the future to cover them as well.
Let's touch a bit on your passions unrelated to the workplace. What do you do in your spare time?
I'm a very creative person, and art is my main passion. I love photography and always try to learn and try out new styles and techniques. Taking pictures as well as processing them for the final result interest me, and I try to take time with both. Additionally, I'm very interested in filmmaking. From scriptwriting to setting up the scenery, and from directing to producing – each step is equally fascinating and worth exploring. Experimenting with various styles and themes is a point of great inspiration for me right now.
Do any of your hobbies influence your work and if yes, how?
I truly believe in a cross-disciplinary approach. All of the skills are connected with each other in some way. Sometimes, it's quite obvious, like with my hobby: surrounding myself with art in many forms I influence and improve my taste and the ability to find the style for the particular situation and then follow it. I try not only to see the beauty but to understand the meaning of each art element and what functionality it brings to the whole composition. This skill I often use at work while designing a product
What were the most interesting and fun situations at work?
There are hilarious situations during the daily meeting every day. Creative work with inspired colleagues opens up a lot of opportunities for inside jokes and work-related puns. It's probably the most fun part of my job – coming up with unique decisions together.
What is the most special moment with your colleagues?
I remember one outdoor teambuilding most vividly. We had to solve quests and overcome obstacles – a lot of climbing and other physical stuff – it was quite a challenging experience, and oftentimes more of a scary than a fun one. However, when the difficult part was over, I realized that it was a truly memorable moment that really brought our team together. Shaking things up a bit often create great opportunities to feel closer to those beside you.
Do you have any tips and/or wishes for MaxBill newcomers?
Always start with putting as much time and effort into understanding the product as possible. Listen to your senior colleagues and learn the company processes deeply. Then you will be able to propose new decisions. Never be shy or afraid to offer unusual solutions – those are the best ones!
We thank Alexandra for this very inspiring interview and invite you to stay tuned for more success stories. By knowing each other's journey, we learn to understand the world and people around us better, which is the key to growing personally and professionally.