August 16, 2022
Europe Energy Crisis 2021-2022: EU's response to the industry's woes
The energy and utility sector has not yet recovered after the Europe energy crisis 2021. A new one hit the continent in 2022. This time, things got even more complicated after Russia's invasion of Ukraine. European governments, energy suppliers, and end customers have to respond to new realities in a way that suits everyone.
In this article, you'll get key takeaways from the year's situation in the energy market and dive into the details of a new one. Also, you'll find out the most efficient solutions existing today to make it through this winter and why utility management software becomes pivotal for electricity providers. Take a look.
---
Energy market crunch 2021: Recap and takeaways
Last year, most members of the EU experienced a 21-month-long record in electricity prices. The situation was pretty inevitable. Diminishing investments in oil and gas and insufficient support for alternative power sources made the industry vulnerable to force majeure. By this, we mean a variety of the following exceptional circumstances that happened at once:
Miserable weather conditions. The wind failed Europe, leaving the wind-powered plants without supply. Winter was long and cold, emptying stock at the beginning of the year. In the meantime, summer droughts have hit hydropower plants all around the world.
COVID-19 and projects put on the shelf. Due to the pandemic, more than half of the 2020 maintenance work was shifted to 2021. This meant double pressure on assets and workers this year, which negatively influenced the supply of natural gas and coal and on nuclear and other alternative power plants. The UK and Norwegian areas of the North Sea Continental Shelf, LNG liquefaction plants, and Ras Laffan suffered the most.
Gasoline transportation issues in the UK. The shortage of truck drivers was just one of the Brexit downsides the UK faced in 2021. The country depended quite heavily on foreign drivers. Although the programs to train local professionals were set in motion, such educational initiatives were disrupted by the pandemic. This left the UK without means of gasoline transportation. For now, the government has addressed the issue. Please check for more details on the UK crisis here.
Key takeaways
Paradigm shift to clean power is beneficial for all – governments, investors, and businesses producing energy. Going for it should be a must-have to stabilise the market and protect the environment.
Widening of the supply network for energy providers. The dependence on two or three partners proved to be dramatic. The international community that includes producers, providers, vendors – businesses of all sizes – is definitely a way out. This includes startups, independent prosumers, and highly engaged consumers.
Data analytics and forecasting are a must for the industry. It's crucial today to remove the guesswork and use loads of data to understand how trends will influence the future of the industry. This is where energy management software is indispensable for providers.
The year 2022 slaps even harder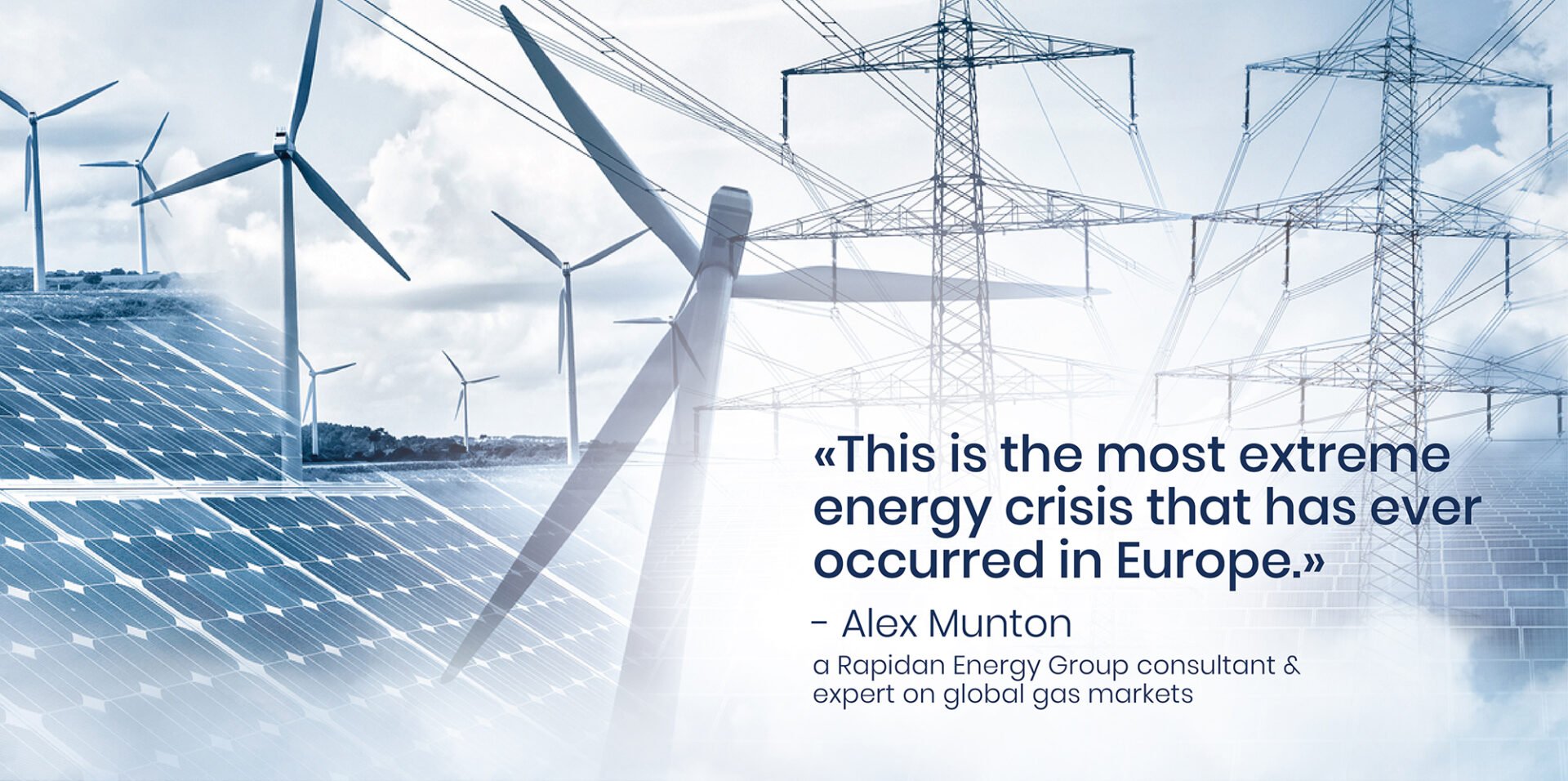 "This is the most extreme energy crisis that has ever occurred in Europe," states Alex Munton, a Rapidan Energy Group consultant and expert on global gas markets. The reasons are multiple and of different nature: extreme weather, post-covid recovery, low wind generation, dwindling domestic gas resources, the lowest gas storage on record, etc. But the most pivotal one this year turned out to be the EU-Russia dynamics.
Russia's natural gas supply makes some 40% of European imports and has been a critical energy lifeline for the continent. The threat of losing it has been a major concern of European leaders for the last few months. The reason is pretty obvious – the breakout of the Russian-Ukrainian war and Europe's support for Ukraine. As a result, energy prices skyrocketed, forcing many countries to put emergency plans in place. In the meantime, backup energy suppliers such as Norway and North Africa cannot step up.
Officials are afraid of the upcoming winter when demand for energy grows and having enough gas is simply necessary for heating. For now, they count on the summer period to refill gas storage facilities. If Russia's disruptions continue, Europe can encounter a difficult winter with rationing, industrial shutdown, and even colossal economic dislocation. Electricity providers, in their turn, should consider investing in smart energy management initiatives to stay agile, sustainable, and resilient.
What is the EU currently doing to address the energy market challenges?
Germany is experiencing this pain the most. The government has already taken several energy-saving measures such as rationing heated water and refusing swimming pools. To tackle the challenges, Berlin has implemented the second stage of its three-stage emergency gas plan. It also took the course to help its energy giants that have been slammed by Russian blackouts.
The situation is pretty the same all across Europe, as stated by Olga Khakova, an expert on European energy security at the Atlantic Council. France has recently announced plans to nationalize the Électricité de France S.A. power company since it cannot deal with growing economic losses. The question is, how much aid can governments provide to energy consumers and these companies?
The best possible long-term vector to deal with the crisis is rationing gas supply. To ensure independence from Russian gas, a certain infrastructure needs to be developed, new suppliers to be regarded, and new terminals to be built. This takes time, and for now, European leaders will continue to secure enough supplies and can only hope for mild weather.
Doctor Fatih Birol, an executive director of the International Energy Agency, assumes that coordinated actions across Europe can help minimize a gas crunch. Take a look at his suggestions.
How Europe fights back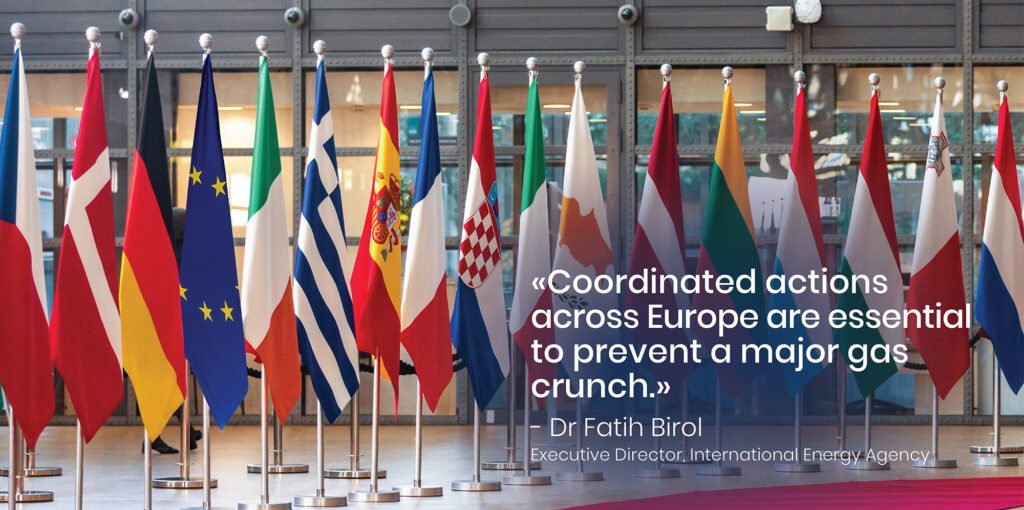 Nord Stream pipeline is already operating at a limited rate after maintenance (resumed on July 21). The European Commission recently called on EU countries to reduce demand for natural gas by 15% in the coming winter months and to authorize it to enforce needed demand cuts. So, the key tasks for Europe are to have filled its gas storage facilities to above 90% of their capacity and to reduce current gas consumption to put that saved gas into storage. In this context, Dr. Fatih Birol offers the following solutions:
Introduction of auction platforms to encourage EU industrial gas customers to reduce demand. The part of their contracted gas supply can be delivered as demand reduction products for compensation. This must result in enhanced efficiency and successful bidding.
Decrease the use of gas in the energy domain. This is achievable by increasing temporarily electricity generation from coal and oil. Meanwhile, it makes sense to facilitate the deployment of low-carbon sources together with nuclear power if policies and technologies allow it.
Streamline coordination between gas and power operators throughout EU countries, incl. on peak-shaving mechanisms. The measure significantly diminishes the impact of reduced gas consumption on energy systems. This also should involve tight cooperation on the work of thermal power plants nationwide and across Europe.
Reduce energy demand from households by establishing cooling and control standards. Governments, public buildings, and energy and utility management services need to cooperate here. Media campaigns should promote behavioral shifts amongst consumers.
Coordinate actions on emergency planning across EU countries. This should comprise supply reduction measures and solidarity mechanisms. To get through the crisis, the EU needs to realize 'we're in this together'.
What's the energy suppliers' part?
They need to keep up with new regulatory and policy environments requiring energy consumption efficiency and demand-side flexibility. At a time of such energy market turbulences, their primary mission is to help consumers better understand their energy use and lower their bills. How? In many ways, it comes down to switching from traditional business models to digital business models and starting exploiting utility management software as a part of it. Here's why it makes sense:
Digital transformation brings about automation, reduces operational costs, serves complex infrastructures, and addresses the needs of customers of any type (e.g., commercial and industrial customers). It allows the adoption of new payment schemes and compliance with emerging regulations.
Digital models help businesses reduce demand. The French showed a great example in 2021. Last winter, the French grid had to issue an orange alert soliciting households and companies to "moderate their consumption". Eventually, such alerts are going to be a staple this winter. What's more, they will likely become 'red ones' signaling a risk of blackouts in case families and businesses do not reduce demand.
Where does utility management software fit in this context?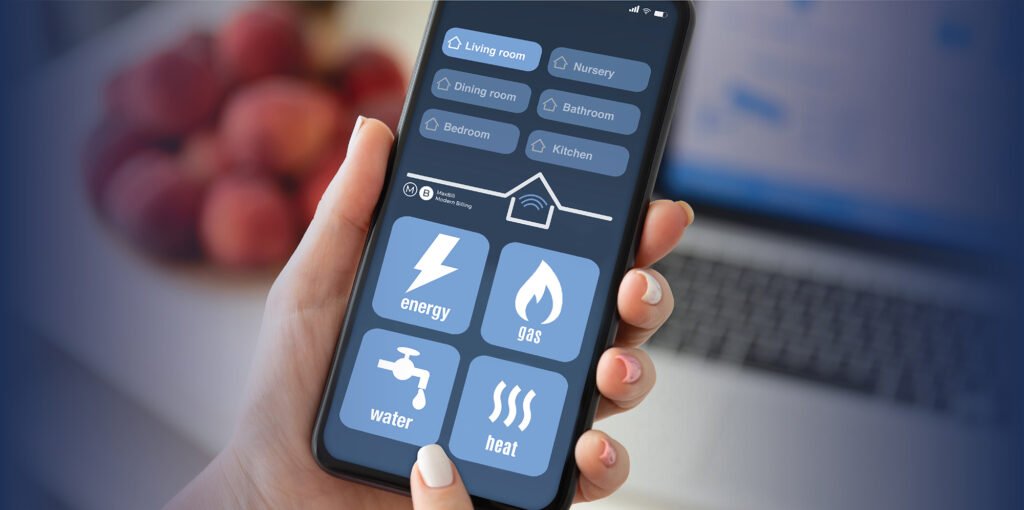 Electricity providers that took the course on power efficiency and demand decrease cannot go without a technological solution today. An end-to-end multi-utility billing and customer management system will be a great fit here as it allows for combining accurate meter-reading, automated billing, and CRM operations to help manage electricity in a way that meets the interests of both – businesses and consumers.
The teams behind such solutions understand that electricity suppliers face new realities, including regulatory and policy environments, provoked by the crisis. To deal with this, businesses can get a feature-rich toolset that allows a personalised approach toward energy consumers.
There are multiple payment plans, payment types, and schemes that energy supply companies can incorporate to relieve 'bills' pressure. Modern utility management software provides forecasts on expected costs based on current trends to help consumers manage their consumption better. It also helps enterprises deal with vulnerable or bad-credit clients.
To help suppliers diversify a portfolio, such platforms provide alternative calculations, showing (f.e., based on a comparison with neighborhoods) how behavioral consumption shifts can decrease costs and improve the overall situation. Therefore, this holistic approach ensures robust revenue protection with automated workflows to work with risks while keeping customers loyal.
Modern utility management software empowers electricity providers to offer convenient packages, add multiple sources of supply, and comply on time when new regulations come into effect.
MaxBill can absolutely deliver on all of that. Here's how exactly it helps energy suppliers in this context:
Aid in gas and energy utility adaption to industry transformation and challenges at the level of billing and revenue management
Enabling electricity suppliers to deliver customised services and offerings by eliminating siloed data between departments to boost alignment across an entire revenue cycle
Out-of-the-box support of established consumption billing patterns, ability to respond to market constant changes, incl. energy as a service (EaaS) schemes
Center of excellence ensuring operational efficiency
Helping raise awareness on energy consumption through billing notifications, special notes, etc. that will lead to behavioral shifts amongst residents, commercial and industrial customers.
Conclusion
The crisis needs consolidated actions of governments, power suppliers, and consumers. While governments are focusing on securing enough gas for this winter and reducing demand, businesses need to help with these endeavors by following the best energy practices and providing all kinds of support for people, especially vulnerable ones. This is where future-proof utility management software can become a game-changer.
Need operational efficiency, support in digital transformation, and a reliable partner to face current energy market turmoil? Contact us and we'll work out the solution that works best for you.
Never miss an important story!
Get the latest news dispatched to your inbox once a month.
Thank you!
Your information has been successfully sent. One of our experts will be in touch with you shortly. In the meantime, you are welcome to learn more about MaxBill.