September 6, 2022
Energy transition: tech trends that bring utilities on top
The utility sector earlier being stable, reliable, and pretty predictable is currently undergoing a profound transformation. The four driving forces run this change – decarbonization, digitalization, decentralization, and democratization. Also, the electrification joins them, creating the basis for the energy transition. All of this makes room for new disruptive technology in utility and new business opportunities and creates operational challenges.
In this piece, we'll talk about trends following the transformation and their impact on the industry. Let's jump right in.
---
2021 Trends Overview
At the beginning of 2021, our team analyzed the trends in the market and compiled a datasheet to showcase the main ones. It describes the hottest technologies that were most often talked about in the industry. Three months later, the MaxBill team published the report on 'The State of Innovation in the Energy and Utility Industry 2021' after surveying top pros in the field for a broader picture of trends, mainly digital transformation. All of the above resulted in a clear understanding of sector trends in 2021. Here's a brief overview of them:
Intelligent automation
Hyperautomation is a trendy word that describes the ecosystem where an array of tools (RPA, AI, ML, data and process mining, etc.) is used to achieve superior levels of automation. Smart metering systems that were around for quite some time already are crucial in this part of digital transformation as the main sources of data.
The survey showed that the majority of companies (84,6%) consider automation vital for them, rating it as "4" and "5" on a 1 to 5 scale. With that, 73% of survey participants do use AI to enhance their customers' experience.
Active conversations with customers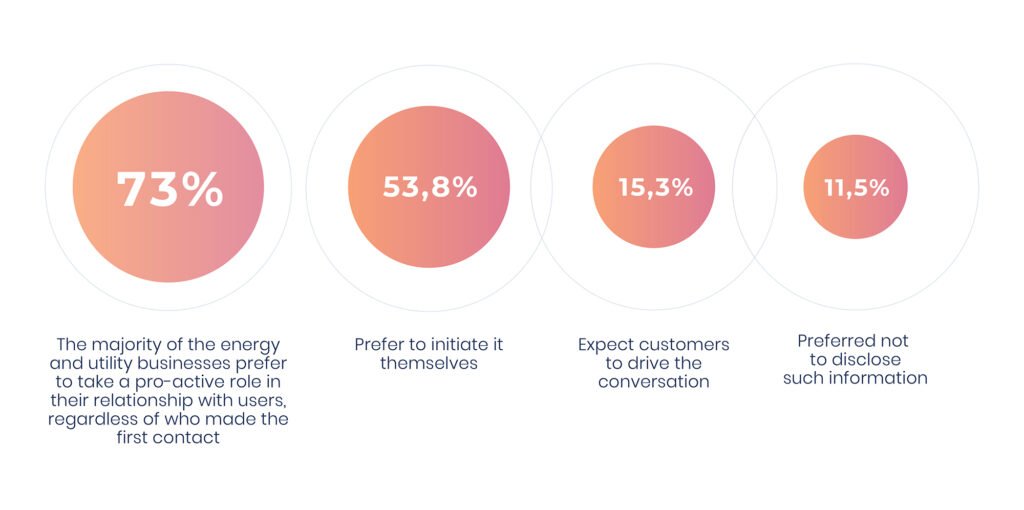 A whopping 73% of businesses believe it is their responsibility to drive the conversation with the customer base. The majority (53,8%) don't wait around for potential clients to come to them. What's more, data- and location-driven targeting become a staple for the utility industry. 96% of all surveyed listed more than three channels they regularly use to appeal to different customer groups, based on their characteristics and preferences.
Transformation as a journey
Based on our research, energy and utility companies are very engaged in the process of digitalization. Taking the specifics of the industry into account, like the complexity of the supply chain and the huge amounts of data coming from the metering appliances, businesses in this sector need to up their digital transformation game. Tony Saldanha, Former Procter & Gamble Vice President for IT and Shared Services, claims that 70% of companies fail at it. There are a variety of reasons for that. The lack of clear goals and expertise, in particular, is considered the major one.
The year 2022: Energy transition at the heart of utility tech trends
The concept is not new to the world, but this year with the Europe energy market crisis 2022 around and 'gas hunger games' across the continent, it has become on point.
The energy transition means refusing fossil-based systems of energy production and consumption, incl. oil, natural gas, and coal, and turning to renewable energy sources by 2050. These are hydropower, wind, solar, the heat inside the earth, and biomass. The point is to remove carbon emissions from the equation to limit climate change.
The idea needs time and investment for implementation. Although the current energy market crunch slowed it down, changes in energy provisioning systems have already begun. This defines the trends and vectors of development in the sector for the next 10 years and more. Let's take a look at the most significant ones.
Technology adoption
Utility organizations differ in their technology adoption, which also shapes individual companies' digital journey. There's the type – mature technologies – that helps facilitate operations and streamlines operational excellence at a fair cost and good quality. They allow running standardized and established processes cost-effectively on a daily basis (e.g., meter data management, billing and customer care management, etc.)
Another type – emerging technologies – digitize processes and enhance organizations' potential to manage assets and support relationships with business partners and customer engagement during the energy transition. They are designed to provide specialist and utility expert competency (e.g., DERMS, energy efficiency gamification, customer care and partner management solution, etc.)
Finally, breakthrough technologies enable utility digitalization. Yet, they are not proven, formalised or mature, and rather assist field employees to increase productivity and back up the performance of new types of energy markets (e.g., transactive energy, AR/VR/MR in utilities). Utility organizations get experience and test such technologies to check for true capacity and ability to bring about the expected results.
We'll focus on emerging technologies since they are more 'down-to-earth' when it's about real-time digital transformation and adaptation to new energy provisioning systems.
Distributed Energy Resource Management System (DERMS)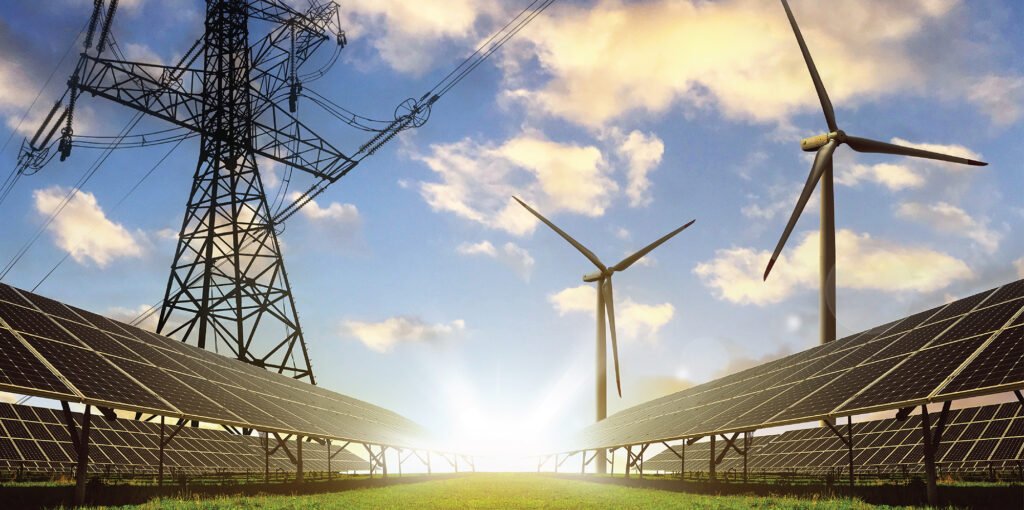 Definition:
This technology in utility represents an emerging set of software applications that run distributed energy resources. DERs are tied to the electric grid.
Impact:
For stakeholders, incl. consumers and prosumers, grid owners and operators, and energy market coordinators, DERs become more accessible and beneficial by being organised in various roles and grouped to deliver services from power to flexibility.
DERs are penetrating all aspects of the grid, bringing decentralization and democratization of energy provisioning.
DER deployment is emerging worldwide and utilities feel pressure to implement DERs to maintain network processes resilience and deliver higher levels of flexibility across the market and dispatch of DERs to navigate energy. DERMS tackles the issues brought by the mass usage of DERs (e.g., solar rooftops) by transforming DERs into extra control levers to handle distribution network operations and commodity management.
Transmission network operations and flexibility markets benefit from this as well.
DER aggregators planning to provide multiple services to distribution-level energy service markets (currently evolving) find DERMS relevant as well.
A DERMS is beneficial for wholesale market arbitrage.
Development of Renewable Energy Management Systems
Definition:
This is emerging utility software used to manage and optimize renewable energy production and operations. The main functionalities suggest data monitoring and collection, managing asset operations, supervising multiple RE sources, and optimising productivity.
Background information: according to Gartner, by 2050 from now, renewable resources will grow by 250% in the power producers' asset portfolio, making more than 80% penetration. Yet, RE owners cannot currently operate present-day fleets with 'old-school' siloed IT-OT systems. Energy companies managing large-scale RE assets face challenges as well.
Impact:
REMS helps support expected business capabilities and required performance levels of RE assets.
REMS helps better address the issues above by helping improve operational decisions and production coordination.
IT/OT alignment and integration supporting business operations of large-scale renewable energy deliver even more opportunities to energy companies, in many ways by smart funding of REMS functionality.
Energy Management and Optimization Systems
Definition
These are modular platforms that empower commercial and industrial (C&I) customers to better orchestrate their energy use. An EMOS assists in running customers' flexible loads and improves their energy profile by working closely with automation systems and production targets. It takes data from meters and sensors and potentially interacts with an energy provider, grid operator or market to regulate operational use cases.
Impact:
Advanced technology adoption allows for energy consumption optimization against productivity objectives and creates new sources of revenue.
C&I companies identify opportunities for cost reduction, resilience, and decarbonization.
They are implementing energy management and optimization technologies regarding on-site resources (e.g., on-site generation and energy storage), which promotes their integration with the energy commodity market and drives grid control services.
Advanced Metering Infrastructure
Definition:
AMI is king when it's about the digitalization of the utility sector. The technology includes the following: a 2-way communication channel, consumption meters (e.g., smart metering), a data collection engine, and meter data management.
Impact:
They are in charge of all the meter data life cycle (from obtaining data to the final delivery of energy use information to utility applications, corporate clients, and end consumers).
This technology in utility allows manipulating customers' connections remotely.
It can also serve as a gateway empowering the utility to supervise consumer load (demand dispatch) by getting into smart thermostats and devices.
It is integral when it's about prosumers integration in energy markets.
The technology is important for customer care, revenue management, prepayment, network analysis, demand response, outage notifications, and consumption analytics.
Check out how MaxBill helped integrate smart meters and give up legacy systems on the way to the company's digital transformation.
IoT in Utilities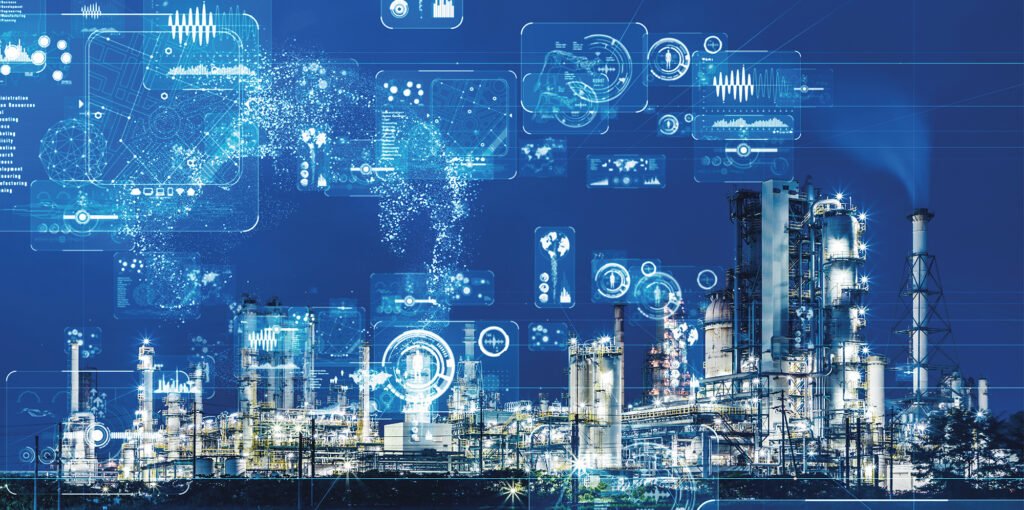 Definition:
Internet of Things represents a network of special physical objects with built-in technology to interact within their internal or external environment. It empowers digital business and serves as a key building block of digital platforms. IoT is a part of AMI, work and asset management, DERMS, and consumption technologies like smart thermostats.
Impact:
The transformation technology allows the elimination of utility services' silos and contributes to constant intelligence, orchestration, and automation.
Utility organizations outpace competitors by optimising legacy vertical IoT solutions with more open, general-purpose IoT ones.
It adds to cost optimization, such as energy reduction, and reduction of inventory spoilage and theft.
Utilities get better asset management: asset exploitation, health tracking, reliability, and maintenance.
Customers remain loyal as a result of improved experiences and getting lifetime value.
IoT results in energy efficiency and pollution declines.
Advanced Analytics
Definition:
This technology in utility became a game-changer since it really streamlines business transformation inside the industry. It represents the autonomous or semi-autonomous study of data or content by exploiting sophisticated techniques and tools (besides traditional business intelligence) to get more profound insights, conclude predictions and generate recommendations.
Impact:
Organizations get opportunities to scale essential customer service operations (e.g., reporting performance indicators, decision support, forecasting models, etc.).
The improved measurement of variables improves, in due turn, observability, which results in model performance enhancements that are frequently blocked by bad discipline across data collection, quality regulation, etc.
Companies get capacities to forecast commodity, asset, and customer trends, and what's more – events and behaviors. This way, utilities expand new service delivery capabilities.
Utilities moving to intelligent operations master better the energy transition.
Big Data in Utilities
Definition:
In the utility context, Big Data means the capacity to combine and process IT data, data coming from operational technology machines, IoT, and data generated by customers. Such processes will be critical for the sector's digital transformation.
Impact:
Utility and technology corporate leaders need to do the following:
Strive for a variable nature of big data connections to provide advanced business insight.
Implement grid/network modernization initiatives and eliminate smart grid/network data flood.
Realize that Big Data is crucial in the utility services 'value chain, incl. management of commodities, assets, customer care, risk, and cost management.
Cloud in Utilities
Definition:
Cloud computing is the one in which scalable and adaptable IT-powered capabilities are provided as a service combined with internet technology. There are multiple choices for utilities to make between pay-offs and trade-offs of cloud services. They include the regulatory position and financial condition as well as the potential for enhanced business capability and elasticity.
Impact:
Cloud is a powerful way to scale digital business and provide technical and business services quickly.
Opportunity to get vertical-specific products, cost efficiency, high-speed deployment, and improved application security.
A significant step for utilities toward a composable business, architecture, and infrastructure.
Utilities flex systems when facing abnormal events, free up funds and capacity for IT and business development.
Cloud is a solid stepping stone of intelligent operation followed by IoT, AA, and AI.
Bottom line
Digital transformation is a must, a no-brainer when it's about the energy transition. Legacy management systems can neither handle the operational challenges of new energy provisioning systems nor ensure further scalability and business development. With that said, utility services cannot go digital without a reliable partner. This one should be not a tool provider, but an outcome provider. MaxBill fits in well here with the strategic development roadmap a utility service company can have.
Particularly, MAxBill delivers reliable solutions for revenue management, customer and partner management, billing and product one. When partnered up with MaxBill, organizations of any size and vertical get a trusted advisor and COTS configurations to successfully handle business transformation projects. The company acts in the know of the industry specifics, local trends, and processes.
Check out our piece "Why Partnering with a SeS Provider Is Essential for Success" to get a broader picture of your potential digital transformation journey.
Never miss an important story!
Get the latest news dispatched to your inbox once a month.
Thank you!
Your information has been successfully sent. One of our experts will be in touch with you shortly. In the meantime, you are welcome to learn more about MaxBill.