April 1, 2022
Discover B2B iGaming
Solutions at ICE London
After two years, the biggest European iGaming event, ICE London, is back on display. Innovators, suppliers, and providers will gather at ExCel London on April 12–14, 2022, showcasing their business solutions, learning from each other about the latest industry trends, networking, and shaking hands.
MaxBill has been an active part of the iGaming community for the past 7 years, so we are excited to be attending ICE personally and learn about iGaming technologies news and latest industry trends, discuss future strategies, share our own insights, and simply re-connect with our peers and partners. On our part, we are thrilled to spread the word about MaxBill innovative B2B solutions for partner management, revenue sharing and invoice calculation that we developed exclusively for iGaming services providers.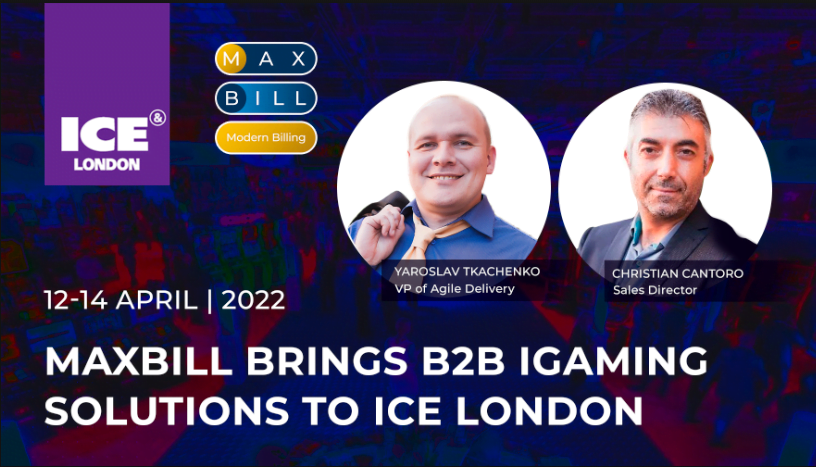 Make sure to book a meeting with our team before you come to the conference. Our Sales Director, Christian Cantoro, will be there to explain more about how the provider's business can benefit from automating the invoicing and partner management processes. Yaroslav Tkachenko, our VP of Agile Delivery, will be the key person to walk you through the specifics of the implementation process, so you can better understand how your back office can be transformed into a solid and scalable digital ecosystem that drives your revenue growth.
Never miss an important story!
Get the latest news dispatched to your inbox once a month.
Thank you!
Your information has been successfully sent. One of our experts will be in touch with you shortly. In the meantime, you are welcome to learn more about MaxBill.