April 5, 2022
Efficiency, reputation, expansion: benefits of internal operations automation for B2B iGaming companies
For most businesses, the path to market leadership looks like the consequent process of expanding their service offering, onboarding new customers or moving current accounts to a broader scope of the service contracts. It is becoming especially critical in the iGaming industry, particularly for online casinos and gaming service providers, who have to constantly extend the service options while managing various models of B2B2X partnerships. This situation underlines the increasing need for tech solutions and platforms that enable infinite scaling and growth opportunities.
It is also a no-brainer that the success and speed of the expansion depend significantly on how effectively the provider's business operations are running. For example, revenue and royalty calculations should be done quickly and precisely. However, according to most iGaming providers, their back-office often suffers from a lack of operations streamlining.
Complex calculations are carried out by a large number of specialists in billing and financial departments manually and slowly. It leads to issues for the providers themselves – with a slow bill run, they receive payments at the end of the second week instead of on the first days of the month.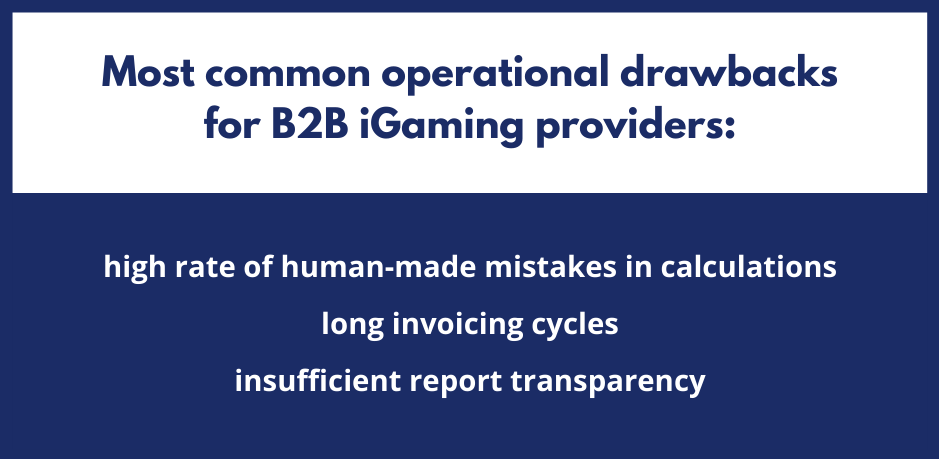 Moreover, due to complex commercial rules and high amounts of invoices, the companies expect to know what they're paying for and request supporting reports with transparent calculations. When done manually, the compilation of a single report with a detailed billing transcript takes up to a few days and an entire billing department that is not prone to making purely human errors.
And if, in the end, the partner receives a faulty report which took a long to compile, the company may lose their trust and loyalty.
Most of these problems can be eliminated with an efficient automation solution. Not only can it help to get rid of internal workflow bottlenecks, it can also elevate the service provider's ability for market expansion to a whole new level.
Let's look at a couple of cases where the MaxBill iGaming solution helped automate back-office operations of B2B iGaming providers.
iGaming Case # 1: Calculations accuracy and audit efficiency
Key characteristics of the business
premium iGaming solutions provider
200+ contracts with complicated reconciliation rules that can change on a monthly basis
huge business network of vendors, customers and brands
Key operational needs
accurately calculating revenue distribution
tracking and performing contract changes accurately every month
scaling constantly as new service offerings, partners and clients are being added to the system
Solution
The key to achieving high processing speed and accuracy is automating the existing workflow. Once each contract's rules are established in the system, the input data is processed according to these rules, the same way, every time. So if the initial setup is correct, miscalculation is simply not possible. While it is common for gaming vendors to receive invoices in the middle of the month, our client's partners get theirs during the first week.
Additionally, it's essential to have flexibility in aggregating revenues: per category, per category for several partners, and sub-categories. It is also possible to track who and when changed the commercial rules and who approved it. It's a vital security measure that ensures only fully authorized rules are applied to a particular calculation. MaxBill solution also allows fast and easy report generation on such changes for any period, which significantly simplifies the audit process.
iGaming Case # 2: Partners' trust and business planning enablement
Key characteristics of the business
large iGaming umbrella corporation
multitude of vendors, customers and unique brands
multiple variations of complex reconciliation rules
importance of trust between all participants of their business network
Key operational needs
providing detailed and transparent supporting documents for each invoice
comprehensive and accurate revenue distribution statements
predictions based on the usage patterns to build profiles and guide further business development planning
Solution:
With MaxBill's solution in place, complete and accurate settlement documents for each member of a particular group with different reconciliation rules can be created and sent out within minutes as part of the billing process. Automatic calculation checks and error detection are supported by a thoroughly configured cross-check algorithm that can be exported to any document, including but not limited to the most popular .pdf, .csv or .xls. With a couple of such accurate and speedy runs, a company will establish itself as a reliable and trustworthy partner in the eyes of the vendor.
Another crucial operational function for efficient business planning is tracking and measuring the efficacy of partner activities, including notifications and alerts based on pre-defined business rules and supported by artificial intelligence. Additionally, with verification and simulations tools, our clients can see what happens if they change the existing contract in one way or another.
Overall, MaxBill iGaming is a thoughtfully designed software solution that fits every stage of business expansion and incorporates any growth iterations. It creates the capacity to quickly set up the framework for new services and provides tools for adapting it further while extending the partner network. This way, it enables providers to quickly enter the preferred market niche and start building a customer base, then add more influence over it and scale. At the same time, we never underestimate the value of individuality in the industry; therefore, the MaxBill solution remains highly flexible and can support any business model.
Get in contact or meet us at ICE London next week and let's discover together how MaxBill solution can become a catalyst for streamlining your business operations, as well as strengthening your partner network relations.
Never miss an important story!
Get the latest news dispatched to your inbox once a month.
Thank you!
Your information has been successfully sent. One of our experts will be in touch with you shortly. In the meantime, you are welcome to learn more about MaxBill.